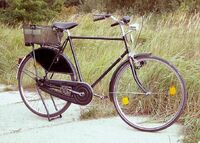 The Bicycle, Bike, or Cycle is a pedal-driven, human-powered vehicle with two wheels, attached to a frame, one behind the other. Invented in Europe in the 19th century, the bicycle has become the world's most popular vehicle with about billions in use, world wide.
Bicycle frame and parts
Edit
The adjacent image shows the frame and parts.
Other uses
Edit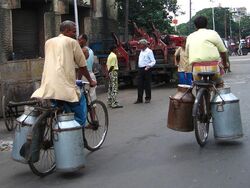 In addition to human-powered transport for milk etc., bicycles also provide a popular form of recreation, and have been adapted for use in many other fields of human activity, including children's toys, adult Physical fitness, military and police applications, courier services, and cycle sports.
Ad blocker interference detected!
Wikia is a free-to-use site that makes money from advertising. We have a modified experience for viewers using ad blockers

Wikia is not accessible if you've made further modifications. Remove the custom ad blocker rule(s) and the page will load as expected.