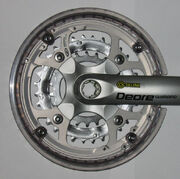 The Crankarm,crankset, or chainset, is the component of a bicycle drivetrain that converts the reciprocating motion of the rider's legs into rotational motion used to drive the chain, which in turn drives the rear wheel. It consists of one or more chainrings
Ad blocker interference detected!
Wikia is a free-to-use site that makes money from advertising. We have a modified experience for viewers using ad blockers

Wikia is not accessible if you've made further modifications. Remove the custom ad blocker rule(s) and the page will load as expected.