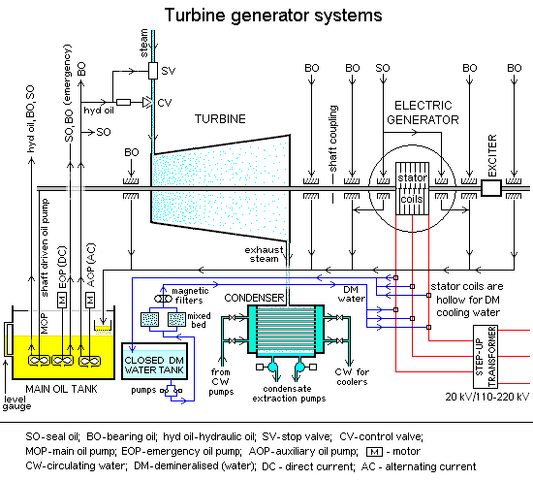 Diagram showing Turbine Generator with example auxiliary systems in a thermal power station.
Legend for explaining abbreviations:
SO - seal oil; BO - bearing oil; hyd oil - hydraulic oil
SV - stop valve; CV - control (governor) valve
MOP - main oil pump; EOP - emergency oil pump;
AOP - auxiliary oil pump; M inside a small rectangle - motor;
DC - direct current; AC - alternating current
CW - circulating water; DM - demineralised (water)

H Padleckas made this image in May-June 2007 by reworking a diagram called Image:Dores-TG Cycle diag1.jpg originally mostly hand-drawn and scanned into Engineering Wikia and English Wikipedia by Dore chakravarty sometime about November 2005. H Padleckas and Dore chakravarty have communicated about this reworking of the original image through private e-mails. H Padleckas 00:54, 22 June 2007 (UTC)
H Padleckas revised this image in about June 22-23, 2007, reducing the width to allow fitting into Wikimedia pages for certain screen widths, including the legend for abbreviations, and making other minor changes (uploaded June 24, 2007). H Padleckas 22:52, 24 June 2007 (UTC)
This file is licensed under the GFDL. Permission is granted to copy, distribute and/or modify this image under the terms of the GNU Free Documentation License, Version 1.2 or any later version published by the Free Software Foundation; with no Invariant Sections, no Front-Cover Texts, and no Back-Cover Texts. Subject to Wikia disclaimers.
Appears on these pages

of
Thermal power station A thermal power station includes all the equipment and systems that go in...

Diagram showing Turbine Generator with example auxiliary systems in a thermal power station...
File history
Click on a date/time to view the file as it appeared at that time.
Ad blocker interference detected!
Wikia is a free-to-use site that makes money from advertising. We have a modified experience for viewers using ad blockers

Wikia is not accessible if you've made further modifications. Remove the custom ad blocker rule(s) and the page will load as expected.