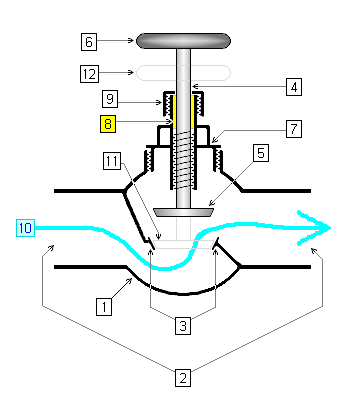 No higher resolution available.
Cross-sectional diagram of an open globe valve.
1. body
2. ports
3. seat
4. stem
5. disc when valve is open
6. handle when valve is open
7. bonnet
8. packing
9. gland nut
10. fluid flow when valve is open
11. position of disc if valve were shut
12. position of handle if valve were shut

H Padleckas created this image in August-September 2006 especially for articles on valves in Wikimedia. H Padleckas 00:20, 2 October 2006 (UTC)
File history
Click on a date/time to view the file as it appeared at that time.
Ad blocker interference detected!
Wikia is a free-to-use site that makes money from advertising. We have a modified experience for viewers using ad blockers

Wikia is not accessible if you've made further modifications. Remove the custom ad blocker rule(s) and the page will load as expected.