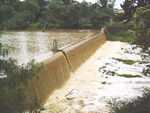 A weir (also known as a lowhead dam) is a small overflow-type dam commonly used to raise the level of a river or stream. Weirs have traditionally been used to create mill ponds in such places. Water flows over the top of a weir, although some weirs have Suice gates which release water at a level below the top of the weir. The crest of an overflow spillway on a large dam is often called a weir.
The adjacent image shows the wier at Coburg Lake, Victoria (Australia) after heavy rain.
Ad blocker interference detected!
Wikia is a free-to-use site that makes money from advertising. We have a modified experience for viewers using ad blockers

Wikia is not accessible if you've made further modifications. Remove the custom ad blocker rule(s) and the page will load as expected.